One new popular wedding trend is the candy buffet or confection bar consisting of a variety of candies and treats placed in varied sizes of glass containers, jars or decorative containers on a table.
The buffets can serve a two fold purpose. They of course, taste good to your guests, and can work as your wedding favor as well. Your guests can select the candies of their choice, and only those that want a treat will come to get one...no leftovers all around your reception tables to clean up at the end of the night. A special touch of your favorite candies and small beautiful treat bags can wrap up your special evening.
Here are some tips and ideas to help you create a beautiful candy buffet at a low cost.
Find affordable containers at the Dollar Stores, Wal-Mart, and even yard sales or flea markets. Get clear glass containers that are affordable and look nice. Buy large and small containers for a nice variety. Don't forget to buy scoopers for getting the candy out of the containers.

Remember if you use containers to place them on display blocks that are then covered by the table cloth and assorted decorations. This creates a tiered effect and makes the table visually appealing.


Keep in mind that guests will need to reach into the vase to pull out candy. Choose vases with wide enough mouths to allow for easy access.


Small Chinese food take out containers make cute containers. You can get these in your wedding colors, or add ribbon or stickers with your name and date.


Decorate the table – tablecloths, table runners, flowers, pictures. These things can be added to make your candy buffet table great. Coordinate your table with your wedding colors. You can get great prices on containers, decorations, paper and table supplies (even candy) at Shindigz and Oriental Trading Company, Inc.

You can add extra decor such as a chocolate fountain, cookies, candy bars or any other
dessert items you like such as brownies, cookies or even pie slices. If it has sugar in it ... it works.

If money is not an option or space, you can rent a carnival candy station (with cotton candy cones), popcorn machines, or even buy popcorn already in containers..


Purchase affordable candy – don't forget those after holiday sales. Purchase candies after Christmas, Valentine's Day and Easter and put it away for your wedding. Candy usually stays fresh for at least 6 months. Buy candy in bulk at places like Candy You Ate as a Kid, Sam's Club and Costco.

Buy sodas from Jones Soda -- where the cans are personalized with the bride and grooms face and name. (It's a definite conversation piece.)

Color makes a difference – coordinated colors look more elegant than random selections.


If you are having a theme or holiday wedding such as Christmas, ribbon candies, candy canes and other holiday candies add a nice touch.



Also, be sure to have some clearly marked sugar free, peanut free, milk free, and gluten free candies for those with food allergies/ intolerances or special diets. Just so everyone can be included.


Some things to think about:
How much candy would you need for 100 guests?

A good rule of thumb is 1/4-1/2 pound PER GUEST. People tend to eat more when it's a candy free for all! This comes out to about 40-50 pounds of candy.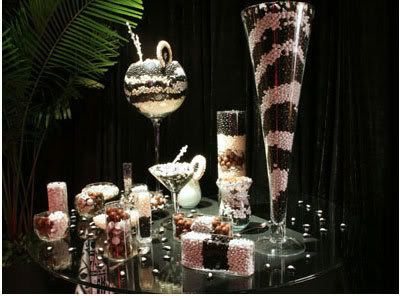 How many type of candy should you buy?
It's up to you, but somewhere etween 8-12 types is a good variety. Too many varieties and you won't have enough of anything. Too few varieties, and you'll likely run out of the "top choices".
What type of candy should you buy?

Get candy that is individually wrapped such as Hershey Kisses, or has a hard
coating (like M&Ms). Gummi items can get hard if they sit out too long, licorice is too sticky for guests to pull on all night unless it is individually wrapped.. The most successful candies will be wrapped or hard.
And, again, remember to buy scoops.... no one wants candy when hands have been
in it... especially if there are children at the wedding. And, don't
forget the Jordan almonds ... they are a staple at weddings.
Is a candy buffet expensive?

It can be. It all depends on what you buy and how much you buy.