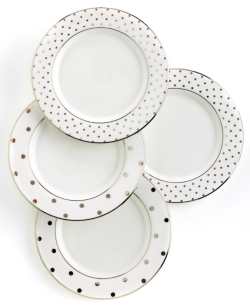 kate spade "Larabee Road" Polka Dot Tidbit Plates,
Set Of 4
The road less-traveled is paved with polka-dots. Ease and elegance are the cornerstones of a perfect meal. Breathe new life into your entertaining style with the Larabee Road tidbit plates.
Perfect for a tea party, brunch or little sandwiches on the patio. What every hostess with the mostess has ... cute plates, and little perky napkins. Polka dots are so in right now ... these are simple, cute, artsy and esquisite. Comes in the red and white or grey and white.