Winter White Evening Gown by Interlude
lovely evening gown by Interlude features wide straps with a high-back. The bodice is adorned with rhinestones, beading and silver threaded flowers. The skirt is completed with the same stunning design at the hem and a slight train. Shawl. Silk Chiffon. Available at Shop Dress (Free Shipping)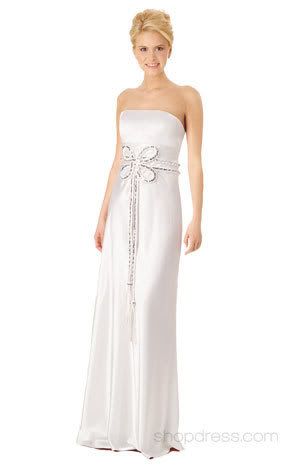 Keira Knightly satin dress by Faviana
Keira Knightly Golden Globe design by Faviana makes an exceptional evening gown. With a strapless cut and a sequin braided detail at the waist that forms a bow, the gown is perfect
if you're going for that red carpet look! Strapless and Satin. Free Shipping.
Kate Winslet Golden Globes Inspired Gown

Gorgeous design by Faviana features a fully ruched bodice with v-shape detail and is completed with spaghetti straps and a classic floor length skirt! Silk Chiffon.dry clean only. Free Shipping and available at Shop Dress.