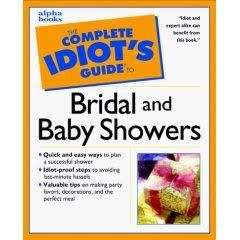 I'm sure that over the holidays there have been a host of newly engaged couples born who need to plan a wedding! But before the wedding there is the Bridal Shower to think about, which will most assuredly be thrown by your Maid / Matron of Honor or a family member. Bridal showers really are fun. They do need a lot of planning and organization in advance, but they are worth it. The bride and groom receive practical gifts for their home, and shower party's are a great excuse to get together with friends and family. Plus it is a memory!
What to Do, What to Do?
First, decide on your maid of honor. Traditionally the maid of honor plans the bridal shower; but it can be a friend, co-workers, or family member.
The Purpose of the Shower:
A #1 - To have a good time and celebrate!
Get your friends and loved ones together to eat, chat and celebrate, assist you "the happy couple" by equipping your new home with the latest gadgets, kitchen aids, needs, wishes and just "things,"
and, to help the bride assemble her trousseau.
When Do You Have Your Shower?
Traditionally, 4 - 6 before the wedding.
What Type of Shower?
A traditional shower can be held at someone's home or it can be brunch, lunch, dinner or a tea party. The time of the party depends on the schedules of the bride and her friends. And, if you need help:
Who to Invite
Family members, friends, relatives and/or work colleagues.
What's Your Theme?
Choose a theme before sending out the invitations. The theme can then be used throughout the shower with the invitations, decorations, party supplies
, favors and refreshments.
There are dozens of shower party themes you can play with; including:
A 'kitchen' theme. Purchase the couple equipment and accessories geared for the kitchen. This would include cookbooks, pans, towels and anything else kitchen related. If you want to cheat ... have a "Pampered Chef" party. Here, the guests can eat, drink and be merry and buy the bride what she needs right there at the shower. Or, the guests can buy what they want, and all of the party rewards will go to the Bride and she can buy what she wants.
travel theme, for the couple that has everything! Purchase luggage, travel items, gift certificates, or perhaps find out of the couple has signed on with a honeymoon registry whereas you can purchase gift certificates towards airfare, dinners, sightseeing tours, food, hotels, etc.,
lingerie theme; purchase the bride a honeymoon trousseau, The Honeymoon Boutique at Bare Necessities, Shop Frederick's of Hollywood
Plus Sizes, Frederick's of Hollywood)
if the happy couple are both into health and fitness, then a fitness theme
could be an option,
a garden shower party is nice. Buy the groom a rake, hose, or any other outdoor equipment he might need. The bride, spiffy hand tools, feminine garden gloves ... the sky is the limit!
Another favorite is the Tea Party. It's sophisticated, it's quaint, and if you have a lot of older guests, it can be perfect.

A wine tasting party. Purchase the couple bar equipment, stemware, glasses, wines, cheese, stock the liquor cabinet, glassware, or even cookbooks that have appetizers and mixed cocktails included in them.
The Shower Invitations.
A growing trend is that many brides are doing their wedding research on the Internet. which has opened up many 'cheaper' avenues and you can now get some beautiful printable-wedding-shower-invitations. These invitations are customized with your own wording and design, and are printed directly from your own printer. And, many are using E-Vite and other online card services. Simply send the invitation over the internet.
Note: Remember to send Thank you cards. In Laptop Bride's opinion, a personal note is the
only way to make sure that sincere appreciation is expressed. (Don't use the computer... snail mail works better.)
Food, Favors and Games
Food: Food will totally depend on your theme. If you are having a fitness shower, for example: a finger buffet would work well. If you are holding a garden shower or tea party brunch, consider light finger food - cheeses, crackers, fresh fruit, mini-quiches, scones, muffins, dips, salads, jellos and basically lite fare.
Favors: For the shower something small works well. It can be something as simple as tulle filled with Jordan Almonds and tied with a curly ribbon; to a handmade crafts. If you prefer something more like a "gift", give something small and useful like a scented candle or potpourri sachet.
Games: Everyone should experience bridal shower games. Shower party games are a great ice-breaker for people to get to know each other. If you know of any games yourself, use them. Otherwise go to a party store or online to purchase a bridal shower party game book
The Best Bridal Shower Party Games (Party Games and Activities)
( Games could include bridal shower bingo as this is always a big hit as is 'what's in the bag (memory game). Trivia questions about the bride and groom or making a wedding hat with ribbons and bows are all fun games to be had.