We get many emails from "Bride-to-Be's" looking for plus sized gowns for either themselves or their Bridesmaids. For the record, a plus size in the clothing industry is usually anyone over a size 12. Go igure. At any rate, I came across this really amazing online store called IGIGI. Aside from their gorgeous designs; I have to say that I - LOVE, LOVE, LOVE, their Philosophy; and I quote,
"At IGIGI, we believe that words like "ample," "opulent," "curvaceous," and "voluptuous" should be mainstays in the fashion dictionary. It is important to accentuate and celebrate the beauty and sensuality of the female figure rather than cover it up with piles of fabric."
And, in looking through their site and styles it is apparent that they are very passionate about designing and selling both unique and affordable styles for the fashion forward woman.
Ozlem Arapci from IGIGI was kind enough to send me a product sample before I posted their store to our website.
Upon receiving the package from IGIGI, I must say, I was more than pleasantly surprised. For me, it's the little details, that can make or break the buying experience. Believe me when I tell you that besides the dress, the packaging is "fabulous." The dress did not come in a plastic bag, or in a box of Styrofoam peanuts. It came wrapped in beautiful pink paper and was tied with a satin ribbon. It was like receiving a gift to myself in the mail. I loved it! And, this is how all of their packages arrive. It's a nice touch.
The dress that was sent to me for review was the Lisabetta Dress (See dress on left). You can twist it, turn it, knot it' and it doesn't wrinkle. The dress has a bodice twisted into a princess knot, flared skirt and 3/4 length sleeves. It is fully lined, and, it is only $74.00 (Colors olive, black, raisin, wine and ocean blue).
The best way to describe the dress is "very, very nice." Perfect for a weekend trip, honeymoon or the everyday office. It feels good. It looks good. The skirt swings nice and it doesn't wrinkle. The dress does not cling to you - it flows. Perfect. You can dress it up with a scarf or jewelry or even wear it plain. The quality is excellent. It looks expensive and has a great feel to it.
The nice thing about IGIGI is that they have a size chart which is developed toward the 5 body shapes: hour glass, triangle, reverse triangle and so on. They are also in the process of developing a size calculator so that a customer can enter their measurements at the web site and get recommendations of items for their particular shape. Which is so nice, because personally, I hate ordering clothes online and when they come they don't fit.
If you are a Bride looking for gowns or dresses for either yourself, your bridesmaids or mothers / grandmothers of the bride and groom, you definitely need to touch base with this online store. They have everyday clothing and again, gowns for special occasions. Below are a few choices that would work well for your w
edding party:
Novella Gown in Black
(Right) This gorgeous evening gown will help you make an unforgettable entrance at any Gala event. Details include:- Asymmetrically draped bodice that ruches at the side seam to conceal the tummy; Asymmetric bra-friendly bodice and one off-shoulder sleeve for only $190.00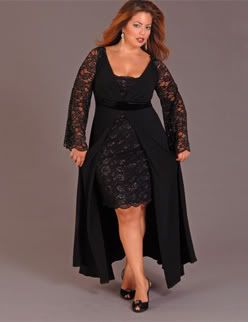 I love this dress! Celine Lace Gown. (Left) This evening gown has a distinct aura of Haute Couture. Dramatic lines showcase a short lace skirt laid with metallic thread and a scalloped edge. It is covered with a long overdress split in the center that reveals the skirt. Lace flared sleeves
flow from a beautifully draped bodice that displays a scalloped lace insert at the bust and ends at the empire waist trimmed with velvet. Lined. $195.00

Fiorella Lace Gown with Shrug in Red (Right) A unique
IGIGI gown creates a feeling of mystery and romance. Beautiful stretch lace has a iridescent effect due to a contrasting lining. Details include a skirt that is flared from the knee due to a number of the sheer chiffon goddess; empire waist is trimmed with a velvet panel. The dress includes a velvet shrug. Only $209.00.


And or course you can't forget the Bridal gowns:
Laptop Bride readers can receive a 10% discount by simply using the code "Wrap". For more information (and choices) visit IGIGI online and their Blog