If you want to be unique, you or your bridesmaids can choose to carry something other than live or silk flowers down the aisle, here are some fun alternatives: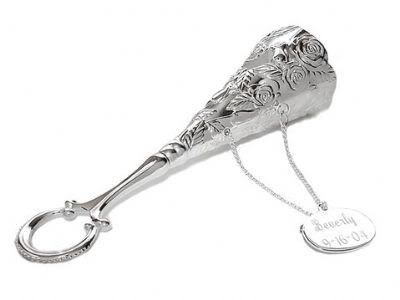 If you want to carry a smaller bouquet (or have your bridal attendants carry something small), consider using Tussy Mussies. They have been around since the 18th century. They are simply cones that hold flowers. Designed to be held, or pinned on to clothing. Tussy Mussies can be made of almost any material, but they are most commonly found
in silver or silver-colored metal. Check out Online Bridal for a nice Victorian Rose
Tussy Mussy, Designed to hold the brides wedding bouquet, the elegant rose embossed adornment comes with an engravable tag to personalize every aspect of your special day. As flowers fade away, these silver accents will be with you forever. This one is very affordable (under $35), and makes a great keepsake after the wedding.
Fans. Try feather fans (available at Oriental Trading ) for a bit of fun, wooden fans for an understated look, or lacey fans for an old-fashioned flavor. For a peek at a variety of fans, check out the Paper Fans at beaucoup which were " As Seen" in InStyle; Weddings magazine and on Good Morning America. In theory, a

hand fan is a great giveaway at a summer wedding, or an outdoor party. As lovely as they are practical, fans will sure to be popular among guests. A great way to help your guests stay cool during the cerem

ony or outdoor reception. Set a fan on each chair for your guests to enjoy - your thoughtfulness will be greatly appreciated. If you like, add some flowers to your fan to add some color and decor. You can follow the theme with Fan Favors!

"Winter Muffs are quite romantic if you are having a winter wedding.


White Lace Parasols. Paper parasols give a vintage look, and lace parasols offer a Victorian air. Parasols also work as a "twofer" A parasol can beautifully shade
the bride from the sun or add a decorative touch to bridal showers. Parasols can be turned upside-down for a fun way to collect cards.


Candles or lanterns are beautiful. Lanterns shouldn't be too heavy, and candles should be blown out at the alter, (or be smart and use the battery operated candles). No worries about fire. These lanterns to the right are designed to stir up memories of lazy summer
evenings spent in the glow of candlelight. Quaint and casual aluminum lantern measures 5" tall and is available in your choice of glossy white or brushed silver. The lid is removable so lighting and replacing the tea light is easy. Again, you can buy battery operated tea lights through Oriental Trading .

If you want to carry a single candle down the aisle you can add radiance to your event with this Choice Crystal lotus flower candleholder with candle. The unique lotus flower closes and sinks underwater, but at dawn it rises and opens again – making it a symbol of the sun and rebirth, representing long life and these wedding favors from the exclusive Choice Crystal truly capture the lotus' beauty. Each features a 2 ¾" diameter faceted crystal lotus flower candleholder base with a 4" white tapered candle included.




A simple Bible. can be carried by the Bride. Or, the bible can be held with one long stemmed flowrer such as a rose or calla lily.


Conch shells. These are terrific for a beach wedding. (Can be found at Oriental Trading
(Item IN-96/1332)


Star shaped wands. For a fairy tale wedding. (Can be found at Oriental Trading (Item IN-25/211)
Crystal or porcelain bouquets such as the Italian Crystal & Porcelain Rose Bouquet to the right are both different, pretty and again, an heirloom.
Shop Silkflowers believe it or not can be inexpensive. For example a peony bouquet for under $20.00 at Online Bridal .

The wonderful thing about silk flowers is they will stay fresh looking throughout the wedding day regardless of the temperature . . . hot or cold. Afterwards, these can become part of your home décor.



Use your imagination. The sky is the limit! Always remember that you want to personalize your look and your wedding.