I like cute. I like fun. These are some fun cookies (or they could be favors) ... but what would be more fun... Get the cookies for the happy couple; buy the Martini glass ... and let them down the OREOs in style. With either a Martini glass full of cheerey liquid or heck,... milk!

Good Fortunes Chocolate Covered Wedding Oreos, Box of 9
Make the happy couple even happier with these yummy Oreos®. Each Oreo in this 9-piece set is dipped in milk chocolate and decorated with pastel sprinkles, flowers and hearts. Packaged in a gold box. A great gift for the newlyweds or as a wedding favor.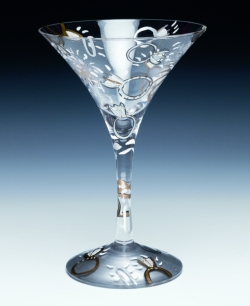 Lolita Love My Martini by Santa Barbara Wedding Martini
Weather you're a shopaholic or a chocoholic, a beach bunny or a party girl, there is a special martini glass for you. These hand-painted martini glasses from Lolita are all whimsically named and themed. They also all come with a fun surprise, an individual martini recipe painted on the bottom! These delightful glasses make a perfect gift for any occasion or a great addition to your own collection.