Christmas is a time of joy and excitement, thus your centerpieces should reflect that. Use traditional colors: White, Red, Green, Gold, Silver, Blue. You can go traditional, or unusual. Your choice. Below are some of my favorite ideas:
Giant glass

or see-through Bowls of Christmas ornaments can be a great idea for a centerpieces that can double as a

Christmas Wedding Favor

(they could be personalized or hand-painted with you wedding date). The big round shiny ones . red, green, blue, silver, gold. Fill each bowl with however many people are at that table. Every guest reaches inside the bowl and takes one home as their Favor.

Gift boxes,

either small one in a bowl (as above) or big gifts which could be opened at one point in the night. They could hold any Christmas Wedding favor you decide to give...or
could just be filled with candy for your guests to enjoy. This can be varied and personalized for your wishes.

Poinsettias

can be set in the center of the table and are popular around Christmas time. You could also put rings of holly or roping around the table to add that Christmas flair.
Oh and Don't forget to add the Mistletoe over the Bride and Groom seats. This will help with the kissing. Just remember both

Mistletoe and Poinsettias are Poisonous

, so beware if adding to Cake or around children.
Clear or white Christmas lights wrapped in white tulle
For a religious touch, you may use Christmas carols for your wedding music and sing as many as you like. Some of the favorite Christmas carols will make your guests sing along too (or at least hum: ) ).
If your wedding colors are Christmas colors, match you Christmas lights to them.
Simple wreaths with white bows edged with gold or silver make great wall decorations and even table centerpieces -- just place a candle in the middle.
Swags of white silk poinsettias with gold-tipped centers can be used to decorate the walls and tables for the Christmas wedding for a festive but elegant look.
Holiday Lane 60mm Multicolored Christmas Ornaments, Box of 18
Holiday Lane 60mm ulticolored Christmas Ornaments, Box of 18Holiday Lane 60mm Multicolored Christmas Ornaments, Box of 18
Topiaries of any size can be used as table centerpieces.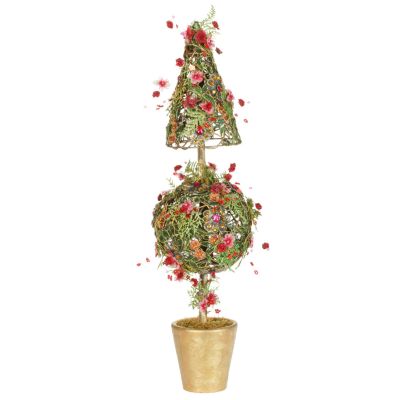 '
28" Festive Faux Topiary Tree
You can decorate your church and wedding hall with lots of romantic and pillar-shaped candles and use ivy and berries for traditional Christmas wedding décor.
Hurricane Candle Holderwith Candle
Hurricane Candle Holderwith Candle. Create a dramatic holiday centerpiece! Glass hurricane holder is 6"x7", vanilla-scented pillar candle is 3"x3". For an extra-festive look, add your own ornaments or encircle it with our cranberry wreath, sold seperately.
Flower styles, availabilities, and costs vary throughout the year. This also varies from region to region. Florists can get almost any type of flowers for you, but it makes sense to have the bulk of your floral arrangements made of flowers that are readily available during the season of your wedding. You have many options for winter wedding flowers. All white, all red, red and white, full color, all are available, with plenty of options for festive fillers. Here are some ideas to get you started:

Narcissus- white or yellow with flowers with an orange center. Like the mythical Narcissus who was in love with his own reflection, these flowers are beautiful
Magnolia Blossoms- The pink tinted flowers offer simple elegance, and offer hints of all the life of spring time to come
Carnations- Classic flowers, always available
Violets- Small and striking flowers
Gardenia- White flowers that are beautiful for a winter wedding, elegant, and have a lovely fragrance
Amaryllis- You can get them in different colors; the petals are multi-shaded and look stunning
Orchids- Many brides love orchids, and even see them as a status symbol. These flowers really are beautiful, but they are also pricey.
Roses- Such a classic, and so many varieties to choose from. A bouquet of nothing but roses can look very elegant all on its on, or roses mixed with other flowers can draw from each other's
beauty. Red and white roses are both classic and fitting for a winter wedding. Fire and Ice roses are white with red tips; though some have a more orange than red tint.
Snowball Mums- These look like what their name implies
Freesia- Many different color options, a nice simple flower
Tulips- Another classic that offers your bouquet or centerpiece a nice push of color, with many colors to choose from.
Lilies- Big, bright flowers than can add an elegant "oomph" to your bouquet. Many varieties to choose from. Calla Lilies are especially elegant, and a classic choice for a wedding flower.
Crocus- Several varieties, tending to be purple with an orange center.
Gerbera Daisies- These flowers are bright, fun and innocent, and also pack in a lot of color.
Dahlias- A beautiful burst of a flower, in a variety of colors
Lisianthus- These flowers have a gentle, truly feminine look.

To fill in your bouquet or centerpiece:

Foliage that is sprayed gold is very festive for Christmas weddings especially
Baby's Breath
Holly
Ivy
Eucalyptus
Dusty Miller- this is silver, and perfect for a winter wedding as it adds an icy elegance to the arrangement

The best way to figure
out what flowers will work for your wedding is to do a little research, then sit down with your florist. They'll be able to tell you what has and hasn't worked well in their experience, plus they will be able to give you an idea of the costs of the different flowers. Keep in mind that prices can vary greatly from florist to another. Make sure you find a florist with a good reputation, who you trust to match your vision for your wedding day, and to work with you to make that happen on your budget.


First Snowfall
to the left is a great example of an elegant yet inexpensive centerpiece. A puff of frilly white alstroemeria - as pure as a first snowfall - is arranged atop pinecones, glossy red berries and a sprig of fresh cedar in this festive winter bouquet. All tied up with a red chiffon bow, it's the perfect holiday centerpiece - or a pretty floral gift for anyone on your list. White alstroemeria, flat cedar, pinecones and faux berries, accented with a red chiffon ribbon, arrive in a glass bubble bowl. Approximately 10" (W) x 9" (H)
MINI WEDDING ROSE CUBE-CREAM
MINI WEDDING ROSE CUBE-CREAM Gorgeous blooms and unmatched fragrance make this collection of 8 fresh roses, white stock, white waxflower or 'Millionstar' gypsophila and curly willow in a 4'x 4' glass cube a statement of endless elegance! Available with cream, peach, pink, red, white, lavender or yellow roses, this centerpiece adds that unique touch of sophistication to every table.
And, as I said, if you want something different, try glitter trees, candles or Christmas Decorations that are different, such as the tree below:
Department 56 24" Gold Glittered Tree
Department 56 24" Gold Glittered Tree
Your real Christmas tree will be green with envy next to this golden 24" tree. Made of resin, this sparkly decorative tree makes a glittery centerpiece on a dining room table, or display it on a table in your front entranceway to welcome guests.
Gold Ornament Tree
Create a unique family heirloom centerpiece for your holiday table with our elegant Christmas Tree Ornament Stand. Beautifully crafted of gold finished wire the distinctive 24"H tree features scrolling branches a star on top and rotates in a circular motion using 2 "C" batteries (not included). Tree is not personalized. Perfect for showcasing favorite ornaments. (Ornaments sold separately.)