"Mary, Mary, Quite Contrary, How does your garden grow?" Hopefully she has violets, roses and a nice assortment of edible flowers.

If you are looking for a fabulous conversation starter at your wedding and a unique approach to decorating your food; try using edible flowers as decor for your desserts or wedding cake.

After somewhat disappearing for many years, cooking and garnishing with flowers is back in vogue. You can decorate cupcakes, petit-fours, cookies; even the wedding cake with a large variety of edible flowers. Just make sure you research the flowers you choose because not all flowers are edible. Some edible blooms include: violets, naturtiums, scented geraniums and violets.

Using flowers as decorations and eating them is not new. The art of flower cooking can be traced back to Roman times, and to the Chinese, Middle Eastern, and Indian cultures. Edible flowers are known to have been popular during Queen Victoria's reign in the Victorian era . Today, many restaurant chefs and innovative home cooks garnish their entrees with flower blossoms for a touch of elegance.

The secret to success when using edible flowers is to use flowers sparingly in your recipes. You don't want digestive complications that can occur with a large consumption rate; and you do not want to add to many other flavors that will over power the delicate taste of the flower.

Although the concept of using fresh edible flowers in cooking is not new it is still awe inspiring to see. It is a nearly lost art that is enjoying a revival.

TIPS: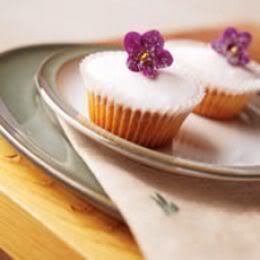 One very important thing that you need to remember is that not every flower is edible.

Sampling some flowers can make you very, very sick.

Make sure your flowers have never been introduced to pesticides

Identify the flower exactly and eat only edible flowers, and edible parts of those flowers; or

You can be like me and buy the edible flowers : ) If you are not sure how or what to do with flowers it's easier to let someone else to the work for you. One company is Sweetfeilds with offerings such as Edible Candied Pansies or the Sweetfields Silver Mixed Tray

If you want to grow your own flowers and find recipes to candy them, try the book Edible
Flowers by Kathy Brown, which has a wealth of information

For more information and recipes, check out: What's Cooking America; Osage Gardens and the Hub Pages for a great Candied Violet recipe, or even Wikipedia.
Guess it's safe to say that when you are cooking with flowers, every time you scrape that bowl you are putting the "petal to the metal!" Sorry, couldn't resist the pun.